Hello there,
I got a question for a requirement I'm trying to satisfy in Camunda.
We have a standard workflow called "Signature" that we implement as a workflow we can call using a Call Activity.
We need to give users a way to call multiple signatures, with different people needing to sign. If everyone accepts, workflow ends with an acceptance outcome, if one rejects, workflow ends with a rejection outcome.
Current solution we have does not really keep track has the problem that, whenever we unit test it to see if the process instance has ended or is still active, we always get the following error:
org.camunda.bpm.engine.ProcessEngineException: Query return 2 results instead of max 1
Here's one of the solutions we thought about that are still not ok: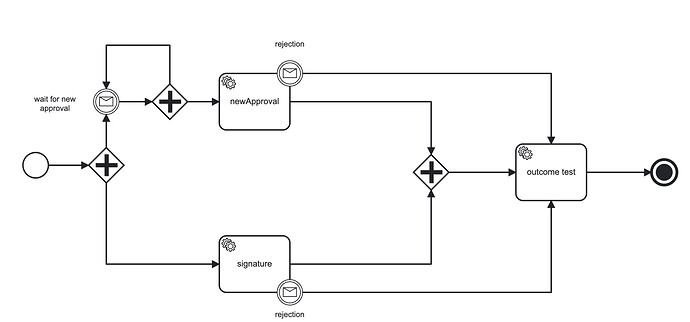 I'd appreciate your help on this, thanks a lot!