Hi there,
I have a problem understanding when certain PlanItems are activated in Camunda or not. We are currently building a ACM GUI to provide a proper UI for case workers based on the CattleCrew Demo by Opitz. We are using this case here as a demo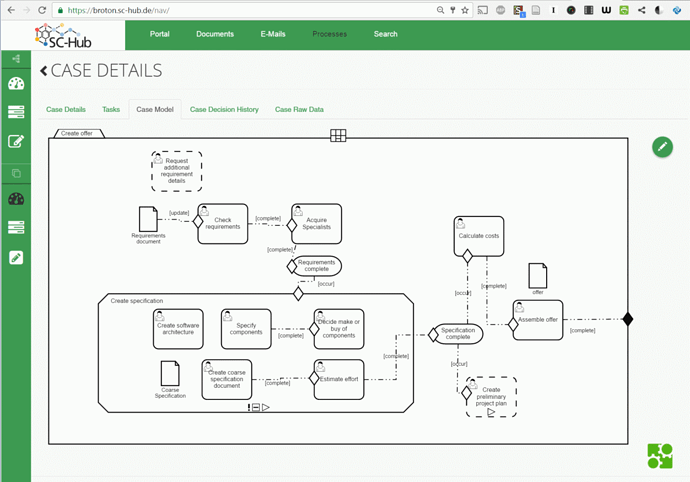 We are using the REST API to get the available activities. However, the available activities don't contain the discretionary HumanTask "Request additional requirement details".
Question 1) Why is that the case? From my understanding discretionary items should be startable any time by the case worker. What REST call can I use to obtain discretionary items?
Question 2) The milestone "Specification complete" is not getting activated, although "Estimate effort" was completed. Why is that the case?
Question 3) In a previous version of the case definition I placed an exit sentry at the "create specification" stage so that it was sitting between the "Estimate effort" task and the milestone. In this case the milestone was completed right after the start of the case, before any human activity had occured! Why is that?
Question 4) Don't you think that it would make more sense to set "manual activation" to false for stages by default? I found it kind of counter-intuitive having to explicitly set it to false in the case definition, because otherwise the tasks inside were not activated.
I'm attaching the cases XML file and the JSON response of /history/case-activity-instance for the id of the running instance
create_offer.cmmn (19.3 KB)
case_activities.json (9.9 KB)
Regards
René