Looking to put together a simple post about using Error Events to capture business errors.
The example in this case could be something like a "problem" with a signature (aka the signature is not valid).
Here is a simple example prepped for use with demo user in Camunda: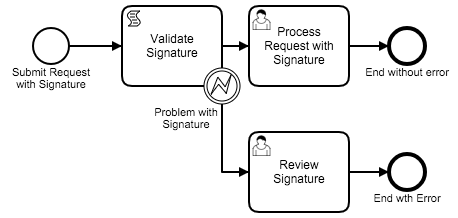 errorTest1.bpmn (6.8 KB)
The script task has the following JavaScript inline:
var sigValidity = execution.getVariable("SignatureValidity"); if ( sigValidity == true ) { execution.setVariable("SignatureAcceptedTF", true); } else if ( sigValidity == false) { throw new org.camunda.bpm.engine.delegate.BpmnError("SignatureError"); }
Wanted to check to see if anyone sees issues with calling error events this way rather than calling them through delegated java code.
I built this example from one of the tests in Camunda: camunda-bpm-platform/ErrorEventSubProcessTest.testCatchErrorThrownByScriptTaskInTopLevelProcess.bpmn20.xml at master · camunda/camunda-bpm-platform · GitHub
Thoughts?