Hello
Given a process: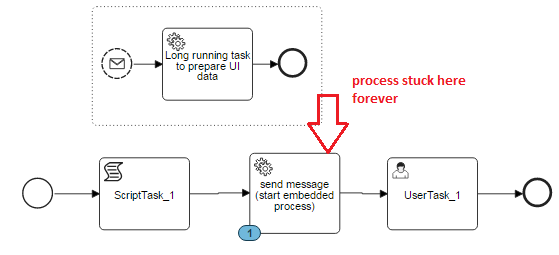 [Reasons for process design:
This process spawns an asynchronous, non-interrupting, embedded event sub-process that runs a service task that prepare data that will be used in UserTask_1. It takes about 2 mins to complete the service task in the embedded sub-process. In the UI there is quite a couple of steps before the data would be needed (more than 2 mins of work).]
Issue:
The embedded sub-process finishes correctly. The problem is that after sending the message to start the embedded sub-process the 'send message' service task is blocked (does not continue, see image above). The 'send message' service task eventually times out and then gets re-tried.
All service tasks are async as well as the embedded sub-process.
Any ideas why this happens?
Code:
The code that sends the message (inside a JavaDelegate invoke camunda REST API):
    CamundaRestClient client  = new CamundaRestClient("sfeUser");
    Map<String, String> correlation = new HashMap<String, String>();
    correlation.put("processInstanceId", delegateExecution.getProcessInstanceId());
    client.sendMessage("INITFINGERPRINT",
            delegateExecution.getProcessBusinessKey(),
            new HashMap<String, String>(),
            correlation);
    delegateExecution.setVariable("send message", "done!!");

Appreciate!
Giovanni