I really appreciate if someone can guide and help me here.
I have a process that makes multiple rest service calls, on failure/downtime of any of the REST service, I have configure it to retry with expressions (R3/PT3S).
I was wondering on how to handle the situation when the REST service is unavailable due to maintenance and all the running jobs during that period fails.
I tried using the "Get Incidents" (Get Incidents | docs.camunda.org) for fetching all the failed instances and using "Set Job Retries" (Set Job Retries | docs.camunda.org) API for retrying, but what I have noticed that the token does not move along the workflow process path, even after updating the number of retries.
Goal - The main process will call upon another process when it has failed jobs/incidents due to eternal service unavailability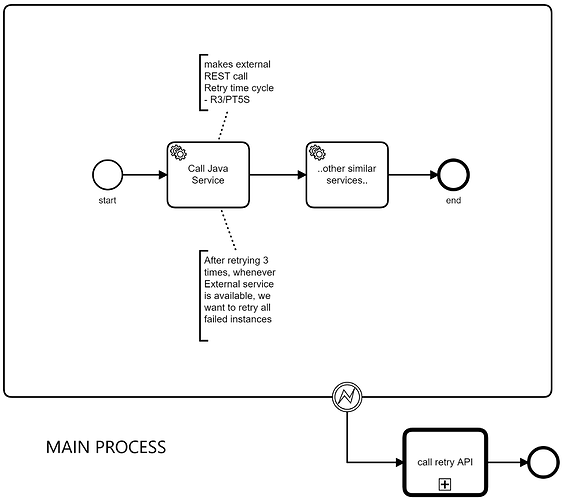 The called process will use REST APIs to resolve(update retries) the failed jobs/incidents

I have attached a sample BPMN for references.
Thanks in Advance