Hi!
I'm getting a fatal error when trying to send a message event via rest api (engine-rest) on 7.11-7.13.
The message data contains both process instance Id and the business key, so the correlation must be instant.
As catalina.out shows, the task following the event finishes allright (got a log there), but then the process stops and tomcat hangs.
Tried to run engine both with H2 and PostgreSQL, H2 fails in 1 min, PG in 2 mins.
Message events in other processes seem to work fine, only one fails. Tried ro remove it and to add it again, tried to finish the process right after the event - nothing helps.
Moreover, I tried to change this to conditional event and send a variable to the process instance. Same s**t.
Another symptom - no response to http POST request with the message or the variables modification.
The screenshot of the diagram is attached.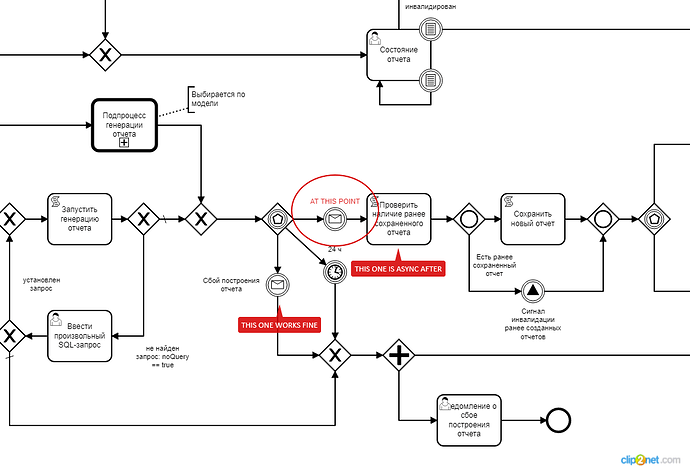 Did anyone catch the same error?
the error:
04-Jun-2020 22:37:35.706 SEVERE [http-nio-8080-exec-3] org.camunda.commons.logging.BaseLogger.logError ENGINE-16004 Exception while closing command context: Java heap space
java.lang.OutOfMemoryError: Java heap space
at java.base/java.util.HashMap.resize(HashMap.java:699)
at java.base/java.util.HashMap.putVal(HashMap.java:624)
at java.base/java.util.HashMap.put(HashMap.java:607)
at java.base/sun.util.resources.OpenListResourceBundle.loadLookup(OpenListResourceBundle.java:146)
at java.base/sun.util.resources.OpenListResourceBundle.loadLookupTablesIfNecessary(OpenListResourceBundle.java:128)
at java.base/sun.util.resources.OpenListResourceBundle.handleKeySet(OpenListResourceBundle.java:96)
at java.base/java.util.ResourceBundle.containsKey(ResourceBundle.java:2305)
at java.base/sun.util.locale.provider.LocaleResources.getTimeZoneNames(LocaleResources.java:272)
at java.base/sun.util.locale.provider.TimeZoneNameProviderImpl.getDisplayNameArray(TimeZoneNameProviderImpl.java:127)
at java.base/sun.util.cldr.CLDRTimeZoneNameProviderImpl.getDisplayNameArray(CLDRTimeZoneNameProviderImpl.java:77)
at java.base/sun.util.locale.provider.TimeZoneNameProviderImpl.getDisplayName(TimeZoneNameProviderImpl.java:99)
at java.base/sun.util.locale.provider.TimeZoneNameUtility$TimeZoneNameGetter.getName(TimeZoneNameUtility.java:271)
at java.base/sun.util.locale.provider.TimeZoneNameUtility$TimeZoneNameGetter.getObject(TimeZoneNameUtility.java:229)
at java.base/sun.util.locale.provider.TimeZoneNameUtility$TimeZoneNameGetter.getObject(TimeZoneNameUtility.java:215)
at java.base/sun.util.locale.provider.LocaleServiceProviderPool.getLocalizedObjectImpl(LocaleServiceProviderPool.java:281)
at java.base/sun.util.locale.provider.LocaleServiceProviderPool.getLocalizedObject(LocaleServiceProviderPool.java:242)
at java.base/sun.util.locale.provider.TimeZoneNameUtility.retrieveDisplayNamesImpl(TimeZoneNameUtility.java:197)
at java.base/sun.util.locale.provider.TimeZoneNameUtility.retrieveDisplayName(TimeZoneNameUtility.java:150)
at java.base/java.util.TimeZone.getDisplayName(TimeZone.java:401)
at java.base/java.util.Date.toString(Date.java:1046)
at java.base/java.lang.String.valueOf(String.java:2951)
at java.base/java.lang.StringBuilder.append(StringBuilder.java:168)
at org.camunda.bpm.engine.impl.history.event.HistoricActivityInstanceEventEntity.toString(HistoricActivityInstanceEventEntity.java:176)
at java.base/java.lang.String.valueOf(String.java:2951)
at java.base/java.lang.StringBuilder.append(StringBuilder.java:168)
at org.camunda.bpm.engine.impl.db.entitymanager.DbEntityManager.validateId(DbEntityManager.java:606)
at org.camunda.bpm.engine.impl.db.entitymanager.DbEntityManager.insert(DbEntityManager.java:484)
at org.camunda.bpm.engine.impl.history.handler.DbHistoryEventHandler.insertOrUpdate(DbHistoryEventHandler.java:66)
at org.camunda.bpm.engine.impl.history.handler.DbHistoryEventHandler.handleEvent(DbHistoryEventHandler.java:49)
at org.camunda.bpm.engine.impl.history.handler.CompositeHistoryEventHandler.handleEvent(CompositeHistoryEventHandler.java:96)
at org.camunda.bpm.engine.impl.history.parser.HistoryExecutionListener.notify(HistoryExecutionListener.java:58)
at org.camunda.bpm.engine.impl.history.parser.HistoryExecutionListener.notify(HistoryExecutionListener.java:38)