[Camunda 7]
Hello fellow Modeler's - it may be a dumb question, but here I am.
So i wanted to ask if it its reasonable to model a "Default-Flow" going out of a "Splitting-Inclusive-Gateway" like showcased here.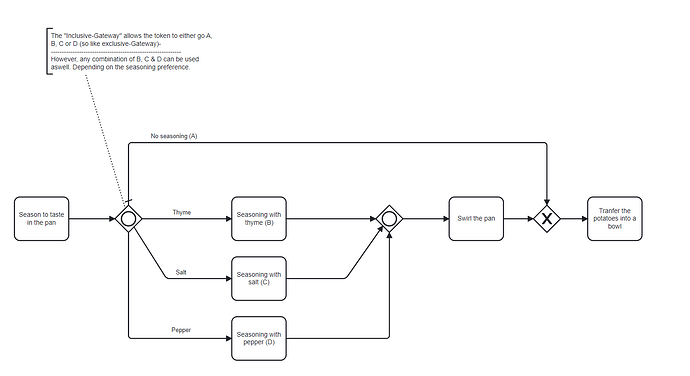 And if so - if the token follows the "Default-Flow", does it block the other possible paths and their combinations or are they still possible? As an example, here is what the logic should say:
If no decision regarding seasoning is made - follow the default flow aka. "no seasoning". Otherwise, follow B, C, D or any combination of them.
Is this possible, or can there be a situation where it follows the default-flow aswell as one or more of the other options. Cuz in this case the "merging-inclusive-Gateway" which is smart as we know, will deadlock due to the token going the "Default-Flow" - Path which is skipping the merge.
Ty 4 your time & support in advance guys