Dear Community,
I've developed a Camunda Spring Boot Application and run it on a Windows Server 2019.
If I run the application when I am logged on, Camunda remembers all my existing groups, workflows etc., but if Camunda starts up in Background, triggered by the Windows Task Scheduler I see a different behavior.
Camunda is showing then the default example groups and tasks. See picture below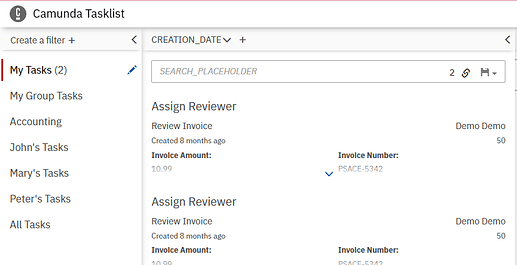 My CORS setting is also gone. Nothing was written in my logfile. If I execute Camunda again with logged on user, everything is working again as expected. No groups, workflows are lost.
Below my POM file and application.yml
<project xmlns="http://maven.apache.org/POM/4.0.0" xmlns:xsi="http://www.w3.org/2001/XMLSchema-instance"
  xsi:schemaLocation="http://maven.apache.org/POM/4.0.0 http://maven.apache.org/xsd/maven-4.0.0.xsd">
  <modelVersion>4.0.0</modelVersion>

  <groupId>com.myCompany</groupId>
  <artifactId>order-process</artifactId>
  <version>1.0-SNAPSHOT</version>

  <name>Camunda Spring Boot Application</name>
  <description>Spring Boot Application using [Camunda](http://docs.camunda.org).</description>

  <properties>
    <camunda.version>7.18.0-alpha5</camunda.version>
    <springBoot.version>2.6.4</springBoot.version>

    <maven.compiler.source>11</maven.compiler.source>
    <maven.compiler.target>11</maven.compiler.target>
    <version.java>11</version.java>

    <project.build.sourceEncoding>UTF-8</project.build.sourceEncoding>
    <failOnMissingWebXml>false</failOnMissingWebXml>
  </properties>

  <dependencyManagement>
    <dependencies>
      <dependency>
        <groupId>org.camunda.bpm</groupId>
        <artifactId>camunda-bom</artifactId>
        <version>${camunda.version}</version>
        <scope>import</scope>
        <type>pom</type>
      </dependency>
      <dependency>
        <groupId>org.camunda.bpm.dmn</groupId>
        <artifactId>camunda-engine-dmn-bom</artifactId>
        <version>${camunda.version}</version>
        <type>pom</type>
        <scope>import</scope>
      </dependency>
      <dependency>
        <groupId>org.springframework.boot</groupId>
        <artifactId>spring-boot-dependencies</artifactId>
        <version>${springBoot.version}</version>
        <type>pom</type>
        <scope>import</scope>
      </dependency>
    </dependencies>
  </dependencyManagement>

  <dependencies>
    <dependency>
      <groupId>org.camunda.bpm.springboot</groupId>
      <artifactId>camunda-bpm-spring-boot-starter-rest</artifactId>
    </dependency>
    <dependency>
      <groupId>org.camunda.bpm.springboot</groupId>
      <artifactId>camunda-bpm-spring-boot-starter-webapp</artifactId>
    </dependency>
    <dependency>
      <groupId>com.h2database</groupId>
      <artifactId>h2</artifactId>
    </dependency>
    <dependency>
      <groupId>org.springframework.boot</groupId>
      <artifactId>spring-boot-starter-jdbc</artifactId>
    </dependency>
    <dependency>
      <groupId>org.slf4j</groupId>
      <artifactId>jul-to-slf4j</artifactId>
      <scope>test</scope>
    </dependency>
    <dependency>
      <groupId>javax.xml.bind</groupId>
      <artifactId>jaxb-api</artifactId>
    </dependency>
    <!-- Use GraalVM JavaScript for JDK > 14 -->
    <dependency>
      <groupId>org.graalvm.js</groupId>
      <artifactId>js</artifactId>
      <version>21.1.0</version>
    </dependency>
    <dependency>
      <groupId>org.graalvm.js</groupId>
      <artifactId>js-scriptengine</artifactId>
      <version>21.1.0</version>
    </dependency>

    <!-- Add your own dependencies here, if in compile scope, they are added to the jar -->
    <dependency>
      <groupId>org.camunda.bpm</groupId>
      <artifactId>camunda-engine-plugin-connect</artifactId>
	</dependency>
	<dependency>
       <groupId>org.camunda.connect</groupId>
       <artifactId>camunda-connect-http-client</artifactId>
    </dependency>
    <dependency>
      <groupId>org.springframework.boot</groupId>
      <artifactId>spring-boot-starter-test</artifactId>
      <scope>test</scope>
    </dependency>
    <dependency>
      <groupId>org.camunda.bpm.extension</groupId>
      <artifactId>camunda-bpm-junit5</artifactId>
      <version>1.0.2</version>
      <scope>test</scope>
    </dependency>
    <dependency>
      <groupId>org.camunda.bpm.assert</groupId>
      <artifactId>camunda-bpm-assert</artifactId>
      <version>12.0.0</version>
      <scope>test</scope>
    </dependency>
    <dependency>
      <groupId>org.camunda.bpm.extension</groupId>
      <artifactId>camunda-bpm-process-test-coverage-junit5</artifactId>
      <version>1.0.0</version>
      <scope>test</scope>
    </dependency>
    <dependency>
        <groupId>org.junit.jupiter</groupId>
        <artifactId>junit-jupiter-engine</artifactId>
        <scope>test</scope>
    </dependency>
    <dependency>
      <groupId>org.camunda.bpm.extension</groupId>
      <artifactId>camunda-bpm-mail-core</artifactId>
      <version>1.0.0</version>
    </dependency>
  </dependencies>

  <repositories>
    <repository>
      <id>camunda-bpm-nexus</id>
      <name>Camunda Maven Repository</name>
      <url>https://artifacts.camunda.com/artifactory/public/</url>
    </repository>
  </repositories>

  <build>
    <finalName>${project.artifactId}</finalName>
    <plugins>
      <plugin>
        <groupId>org.springframework.boot</groupId>
        <artifactId>spring-boot-maven-plugin</artifactId>
        <version>${springBoot.version}</version>
        <configuration>
          <layout>ZIP</layout>
        </configuration>
        <executions>
          <execution>
            <goals>
              <goal>repackage</goal>
            </goals>
          </execution>
        </executions>
      </plugin>
      <plugin>
        <groupId>org.codehaus.mojo</groupId>
        <artifactId>exec-maven-plugin</artifactId>
        <version>1.6.0</version>
        <configuration>
          <mainClass>com.myCompany.CamundaApplication</mainClass>
        </configuration>
      </plugin>
      <plugin>
        <artifactId>maven-surefire-plugin</artifactId>
        <version>2.22.2</version>
      </plugin>
    </plugins>
  </build>

</project>

My application.yml
  url: jdbc:h2:C:\Users\Public\Camunda\camunda-db;DB_CLOSE_DELAY=-1;DB_CLOSE_ON_EXIT=FALSE
  username: xyz
  password: xyz
spring.h2.console.enabled: true
logging:
  level.root: INFO
  file.name: C:\Users\Public\Camunda\camunda-info-log.log
camunda.bpm:
  admin-user:
    id: xxx
    password: xxx
    firstName: x
    lastName: y
  filter:
    create: All Tasks
  job-execution:
    max-wait: 10000
server.port: 8080

Does somebody have any idea what is going wrong.
Thank you very much for any help.
BR
Michael