Hello,
Let's say we have a process like this: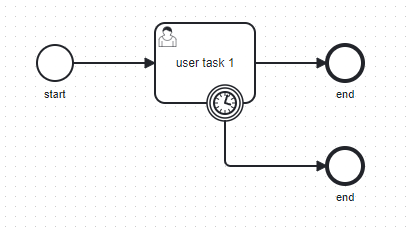 I'm trying to find out why User Task was deleted. I'm aware there are some trigger methods in parse listeners structure, parseUserTask or parseBoundaryTimerEventDefinition, but I am not sure which one to proceed with.
For the above process, User Task can be deleted in two ways. First, either the Timer boundary event connected to the User Task has expired or the process to which the User Task is in the same execution has been manually deleted by someone from the outside while the Timer boundary event has not expired yet. Either way, Camunda Engine deletes User Task, you know.
While the event is happening, that is, the User Task is being deleted, how can I determine if the User Task was deleted because of the Timer boundary event or because of the Process deletion?
There will be async-after selected with the User Task.
Thank you.
P.S.: Starter thread here, you can find some more information and a solution maybe works for you —> How to get User task's cancellation/ending reason from the History service