Hi folks,
we would like to deploy Camunda BPM as a central orchestration and scheduling component. Our processes are fully automated (no human tasks) and comprise mostly of long running tasks:



To mimic the behaviour of Windows Scheduler we tried to use Timer Start Events:


Deploying a process definition with timer event leads to creation of a job definition and a job instance (next possible job). Job executor aquires the job and locks it. 5 minutes later it leads to optimistic locking problems resulting in many started instances of the task. We found a workaround for this issue by processing the long running task asynchronously: we start the task and wait in wait state, which is also an intermediate catching event. When the task is completed, we send a message to the catching event.
We had some incomprehensive and inconsistent behaviour when we do all this in the same process, so we created two different processes - the first one contains the timer, starts the actual process and waits for it to complete: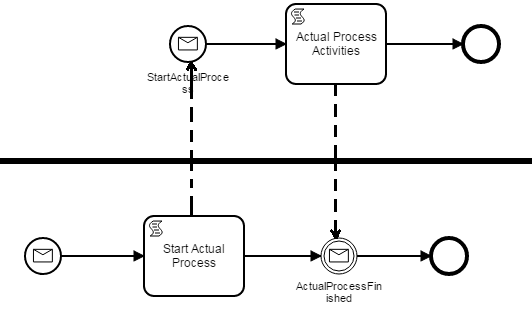 One of our requirements was, that the process has to be a singleton - only one process instance should exist at the same time. But another problem with fully automated processes is that they are not persisted, as long as they are running, because we do not have a single wait state and thus the whole process is a single transaction…
So we looked for another workaround and found following pattern: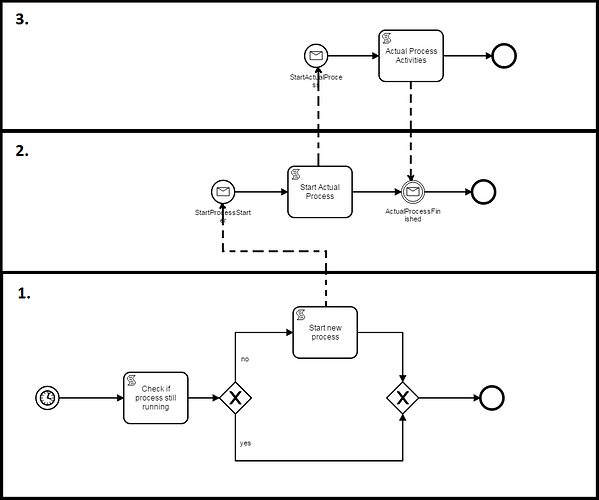 We use the process #2 as a proxy. It lives as long the actual process (#3) is running. In process #1 we time-trigger the process and check whether our proxy exists.
Now to my actual question:
Are we missing something? I can't imagine we need so many workarounds to get our process run as desired. Camunda's explicit use case is to provide "process automation". Beeing forced to work only with human and short (<5min) tasks is not what I would call a process automation

Any help is appreciated,
enix79