Dear Camunda community,
I have a case of two tasks being executed in parallel. One sends an email notification to reviewer, another one is an actual reviewer UserTask. I want to pass in email a taskId (to have a link to a Task list web app in email). However, when I run
def taskId = execution.getProcessEngineServices().getTaskService().createTaskQuery().processInstanceId(execution.getProcessInstanceId()).list()
in step 020 in input parameters - I get nothing. So, apparently, Task 010 was not yet created. Both 010 and 020 are set asynchronous after / exclusive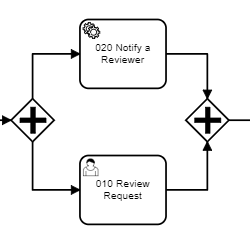 What would be a proper way to ensure that another task in a parallel flow already exists to retrieve its id?
Thank you.
Best regards,
Ilya