Hello,
After reading up a lot of documentation and threads on the forum im still stuck on a particular issue and wondered if someone has stumbled on this before and knows a possible solution.
We had an old working Camunda BPMN flow which looked like this: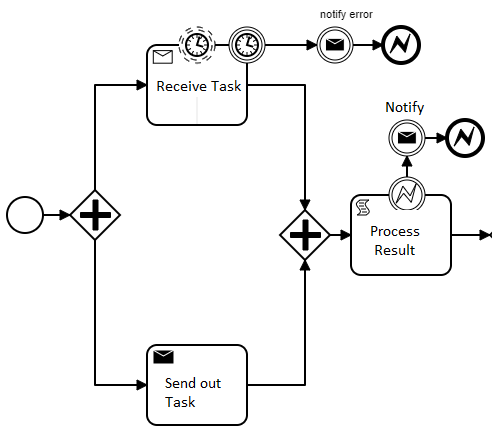 Why this was made with a parallel send and receive task:
This flow send out a message which was then received later trough RabbitMQ back to camunda.
We first had a problem because of how fast RabbitMQ was compared to Camunda the recieved task would be received before camunda would update to the next step and be ready to receive the message.
To solve this problem we would start the send out task and the receive task at the same time this way the camunda would already be waiting for the message and there were no issues.
When the receive task took longer than 10 minutes the user would be notified that the task would not be received and the process would be cancelled.
New change that was neccesary
Instead of cancelling the process on a 10 minute timeout we wanted to pauze the process evaluate it and then choose for a retry or cancel.
To accommodate for this change we updated the model to different versions shown in the comments below. None of them have worked so far any help would be greatly appreciated!
PS: My question is in 4 different post/comments since I can only use one picture per post.