Hi,
I am looking at options to purge the process instance data using out of the box Camunda Clean up capabilities.
Our Camunda version is 7.14 community version.
I went through the user guide here History and Audit Event Log | docs.camunda.org
I am struck with a few issues here.
(Check the configuration in processes.xml attached here. I have this configuration in resources/META-INF/).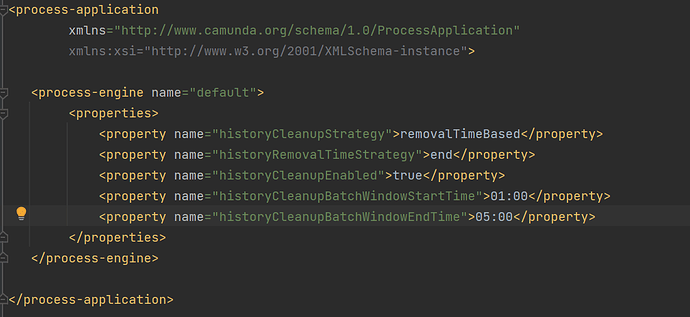 I am able to get this working by defining an absolute time. (I was just trying if this works, I want the time to be calculated only)


Someone else also ran into the same issue earlier and unfortunately I couldnt find a solution there Cleaning up the history process instances.
While I was going through Batch operations | docs.camunda.org, I can see that we are having to give the process instance id's for setting the removal time. Currently in the database, we have millions of process instances, and to provide the process instance id's as mentioned in the link will be challenging. Is there any other way to deal with the situation ?
Thanks,
Hari.