Hi,
could someone please help me with this simple scenario?
I have a rest call (with payload) using the http-connector. And I am tryint to pass the payload to the connector as a JSON object variable.
The problem is when I try to pass the payload (as a spin json object) to the connector the camunda will show this error:
org.camunda.spin.impl.json.jackson.JacksonJsonNode cannot be cast to java.lang.String

I can bypass this exception by creating the json object directly in the script as parameter, but in that case I will not see what was the payload in the cockpit (because there is no process var as payload).
Or another "solution" is to remove the SPIN (example below), but in that case the payload would be string and that is not ok (2000 char limitations).
var myJson = JSON.stringify(
    {
    "variables": {
      "firstVar" : {"value" : "first value", "type": "String"},
      "secondVar" : {"value" : "second value", "type": "String"}
          }
    }
    );
    execution.setVariable("myJson",myJson);

The process looks like this: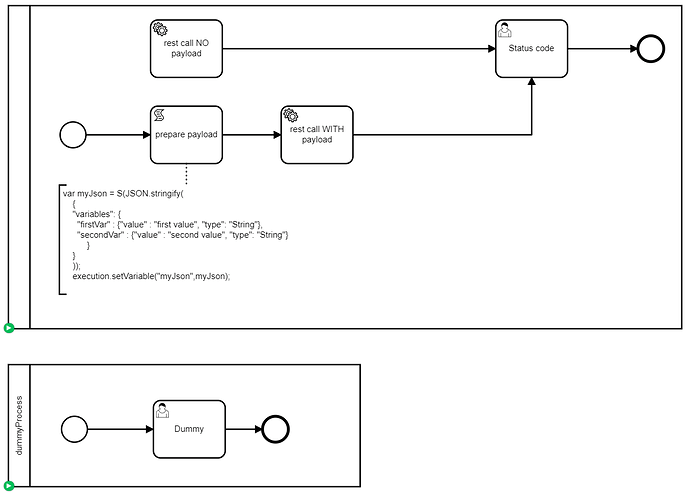 And is available here:
REST connector.bpmn
(9.5 KB)
Any help greatly appreciated.
Lukas