I have created a cluster with 4 broker nodes, 4 partition and 2 replication factor.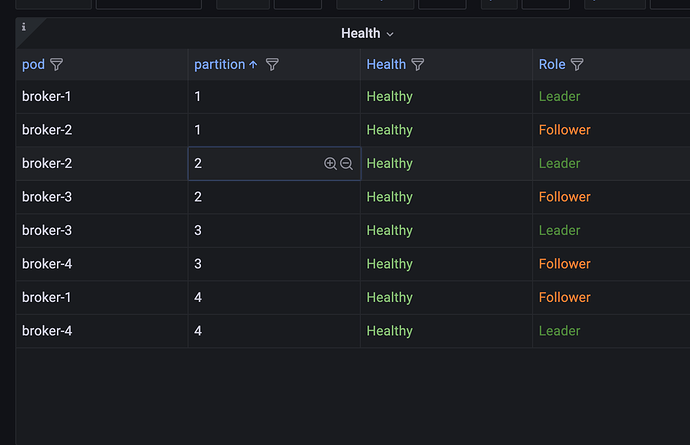 Java Zeebeclient is able to connect gateway, if all the partition has leader node.
If I bring broker-1 down, partition 1 and 4 became unhealthy. But partition 2 and 3 is healthy.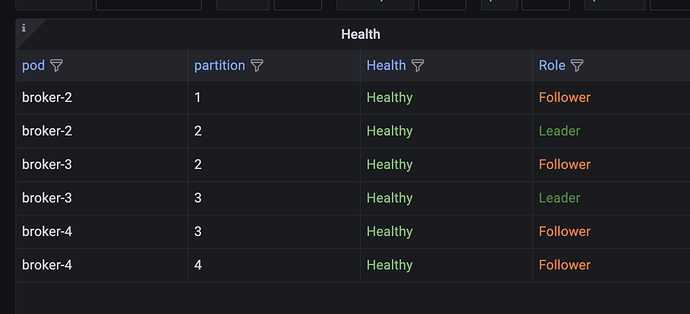 But if we try to reconnect java zeebeclient to gateway, we are getting below exception.
org.springframework.context.ApplicationContextException: Failed to start bean 'zeebeClientLifecycle'; nested exception is io.camunda.zeebe.client.api.command.ClientStatusException: deadline exceeded after 9.959935277s. [closed=[], open=[[buffered_nanos=234615363, remote_addr=localhost/127.0.0.1:26500]]]
at org.springframework.context.support.DefaultLifecycleProcessor.doStart(DefaultLifecycleProcessor.java:181) ~[spring-context-5.3.23.jar:5.3.23]
at org.springframework.context.support.DefaultLifecycleProcessor.access$200(DefaultLifecycleProcessor.java:54) ~[spring-context-5.3.23.jar:5.3.23]
at org.springframework.context.support.DefaultLifecycleProcessor$LifecycleGroup.start(DefaultLifecycleProcessor.java:356) ~[spring-context-5.3.23.jar:5.3.23]
at java.lang.Iterable.forEach(Iterable.java:75) ~[?:?]
at org.springframework.context.support.DefaultLifecycleProcessor.startBeans(DefaultLifecycleProcessor.java:155) ~[spring-context-5.3.23.jar:5.3.23]
at org.springframework.context.support.DefaultLifecycleProcessor.onRefresh(DefaultLifecycleProcessor.java:123) ~[spring-context-5.3.23.jar:5.3.23]
at org.springframework.context.support.AbstractApplicationContext.finishRefresh(AbstractApplicationContext.java:935) ~[spring-context-5.3.23.jar:5.3.23]
at org.springframework.context.support.AbstractApplicationContext.refresh(AbstractApplicationContext.java:586) ~[spring-context-5.3.23.jar:5.3.23]
at org.springframework.boot.SpringApplication.refresh(SpringApplication.java:734) ~[spring-boot-2.7.5.jar:2.7.5]
at org.springframework.boot.SpringApplication.refreshContext(SpringApplication.java:408) ~[spring-boot-2.7.5.jar:2.7.5]
at org.springframework.boot.SpringApplication.run(SpringApplication.java:308) ~[spring-boot-2.7.5.jar:2.7.5]
at org.springframework.boot.SpringApplication.run(SpringApplication.java:1306) ~[spring-boot-2.7.5.jar:2.7.5]
at org.springframework.boot.SpringApplication.run(SpringApplication.java:1295) ~[spring-boot-2.7.5.jar:2.7.5]
at com.helloworld.Application.main(Application.java:57) ~[classes/:?]
Caused by: io.camunda.zeebe.client.api.command.ClientStatusException: deadline exceeded after 9.959935277s. [closed=[], open=[[buffered_nanos=234615363, remote_addr=localhost/127.0.0.1:26500]]]
at io.camunda.zeebe.client.impl.ZeebeClientFutureImpl.transformExecutionException(ZeebeClientFutureImpl.java:93) ~[zeebe-client-java-8.1.6.jar:8.1.6]
at io.camunda.zeebe.client.impl.ZeebeClientFutureImpl.join(ZeebeClientFutureImpl.java:50) ~[zeebe-client-java-8.1.6.jar:8.1.6]
at io.camunda.zeebe.spring.client.annotation.processor.ZeebeDeploymentAnnotationProcessor.lambda$start$7(ZeebeDeploymentAnnotationProcessor.java:119) ~[spring-zeebe-8.1.9.jar:8.1.9]
at java.util.ArrayList.forEach(ArrayList.java:1541) ~[?:?]
at io.camunda.zeebe.spring.client.annotation.processor.ZeebeDeploymentAnnotationProcessor.start(ZeebeDeploymentAnnotationProcessor.java:100) ~[spring-zeebe-8.1.9.jar:8.1.9]
at io.camunda.zeebe.spring.client.annotation.processor.ZeebeAnnotationProcessorRegistry.lambda$startAll$0(ZeebeAnnotationProcessorRegistry.java:38) ~[spring-zeebe-8.1.9.jar:8.1.9]
at java.util.ArrayList.forEach(ArrayList.java:1541) ~[?:?]
at io.camunda.zeebe.spring.client.annotation.processor.ZeebeAnnotationProcessorRegistry.startAll(ZeebeAnnotationProcessorRegistry.java:38) ~[spring-zeebe-8.1.9.jar:8.1.9]
at io.camunda.zeebe.spring.client.lifecycle.ZeebeClientLifecycle.start(ZeebeClientLifecycle.java:49) ~[spring-zeebe-8.1.9.jar:8.1.9]
at org.springframework.context.support.DefaultLifecycleProcessor.doStart(DefaultLifecycleProcessor.java:178) ~[spring-context-5.3.23.jar:5.3.23]
… 13 more
Caused by: java.util.concurrent.ExecutionException: io.grpc.StatusRuntimeException: DEADLINE_EXCEEDED: deadline exceeded after 9.959935277s. [closed=[], open=[[buffered_nanos=234615363, remote_addr=localhost/127.0.0.1:26500]]]
at java.util.concurrent.CompletableFuture.reportGet(CompletableFuture.java:395) ~[?:?]
at java.util.concurrent.CompletableFuture.get(CompletableFuture.java:1999) ~[?:?]
at io.camunda.zeebe.client.impl.ZeebeClientFutureImpl.join(ZeebeClientFutureImpl.java:48) ~[zeebe-client-java-8.1.6.jar:8.1.6]
at io.camunda.zeebe.spring.client.annotation.processor.ZeebeDeploymentAnnotationProcessor.lambda$start$7(ZeebeDeploymentAnnotationProcessor.java:119) ~[spring-zeebe-8.1.9.jar:8.1.9]
at java.util.ArrayList.forEach(ArrayList.java:1541) ~[?:?]
at io.camunda.zeebe.spring.client.annotation.processor.ZeebeDeploymentAnnotationProcessor.start(ZeebeDeploymentAnnotationProcessor.java:100) ~[spring-zeebe-8.1.9.jar:8.1.9]
at io.camunda.zeebe.spring.client.annotation.processor.ZeebeAnnotationProcessorRegistry.lambda$startAll$0(ZeebeAnnotationProcessorRegistry.java:38) ~[spring-zeebe-8.1.9.jar:8.1.9]
at java.util.ArrayList.forEach(ArrayList.java:1541) ~[?:?]
at io.camunda.zeebe.spring.client.annotation.processor.ZeebeAnnotationProcessorRegistry.startAll(ZeebeAnnotationProcessorRegistry.java:38) ~[spring-zeebe-8.1.9.jar:8.1.9]
at io.camunda.zeebe.spring.client.lifecycle.ZeebeClientLifecycle.start(ZeebeClientLifecycle.java:49) ~[spring-zeebe-8.1.9.jar:8.1.9]
at org.springframework.context.support.DefaultLifecycleProcessor.doStart(DefaultLifecycleProcessor.java:178) ~[spring-context-5.3.23.jar:5.3.23]
… 13 more
Caused by: io.grpc.StatusRuntimeException: DEADLINE_EXCEEDED: deadline exceeded after 9.959935277s. [closed=[], open=[[buffered_nanos=234615363, remote_addr=localhost/127.0.0.1:26500]]]
at io.grpc.Status.asRuntimeException(Status.java:535) ~[grpc-api-1.49.1.jar:1.49.1]
at io.grpc.stub.ClientCalls$StreamObserverToCallListenerAdapter.onClose(ClientCalls.java:487) ~[grpc-stub-1.49.1.jar:1.49.1]
at io.grpc.internal.DelayedClientCall$DelayedListener$3.run(DelayedClientCall.java:470) ~[grpc-core-1.49.1.jar:1.49.1]
at io.grpc.internal.DelayedClientCall$DelayedListener.delayOrExecute(DelayedClientCall.java:434) ~[grpc-core-1.49.1.jar:1.49.1]
at io.grpc.internal.DelayedClientCall$DelayedListener.onClose(DelayedClientCall.java:467) ~[grpc-core-1.49.1.jar:1.49.1]
at io.grpc.internal.ClientCallImpl.closeObserver(ClientCallImpl.java:563) ~[grpc-core-1.49.1.jar:1.49.1]
at io.grpc.internal.ClientCallImpl.access$300(ClientCallImpl.java:70) ~[grpc-core-1.49.1.jar:1.49.1]
at io.grpc.internal.ClientCallImpl$ClientStreamListenerImpl$1StreamClosed.runInternal(ClientCallImpl.java:744) ~[grpc-core-1.49.1.jar:1.49.1]
at io.grpc.internal.ClientCallImpl$ClientStreamListenerImpl$1StreamClosed.runInContext(ClientCallImpl.java:723) ~[grpc-core-1.49.1.jar:1.49.1]
at io.grpc.internal.ContextRunnable.run(ContextRunnable.java:37) ~[grpc-core-1.49.1.jar:1.49.1]
at io.grpc.internal.SerializingExecutor.run(SerializingExecutor.java:133) ~[grpc-core-1.49.1.jar:1.49.1]
at java.util.concurrent.ThreadPoolExecutor.runWorker(ThreadPoolExecutor.java:1128) ~[?:?]
at java.util.concurrent.ThreadPoolExecutor$Worker.run(ThreadPoolExecutor.java:628) ~[?:?]
at java.lang.Thread.run(Thread.java:829) ~[?:?]