Hey everyone,
currently i have two DMNs which i want to merge into a single Decision Requirements Graph with two DMN-Tables.
Now I have a DRG like this with two DMN-Tables and a Literal Expression: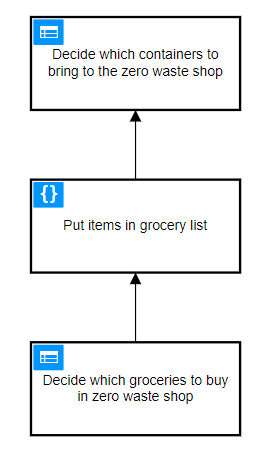 The First DMN looks like this:


The second DMN looks like this:


The first DMN produces a Map which has to be mapped into a list as an input for the second DMN Table.
In the Literal Expression i want to iterate over all the output entries, check if they're set to "true" and put them in the shopping list.
How can i iterate over the outputs of the first DMN table in the context and how do i save them in a list so the second DMN table can access it?
I have browsed through the whole Reference and Samples at Get Started | FEEL-Scala
So far i have thought of something like:
for grocery in get entries(dmnOutput)
return if (grocery.value) then grocery.key else null

But then again there is no variable "dmnOutput" in the context.