Hi!
Once more unto the breach…
Having modelled the Emergency Department process for Intestinal Pain with BPMN according to literature I arrived at this model:

Of course it doesn't hold up in reality: The first two tasks in the heat of the moment basically merge into each other, are done in parallel. The last single task ("Sofortmaßnahmen einleiten") basically is done whenever indicated (and consists of several distinct activities anyway). The two tasks with the external pools also aren't that clear cut and may cross-over. In short: A typical knowledge worker situation. Hence I am trying to model the same situation in CMMN: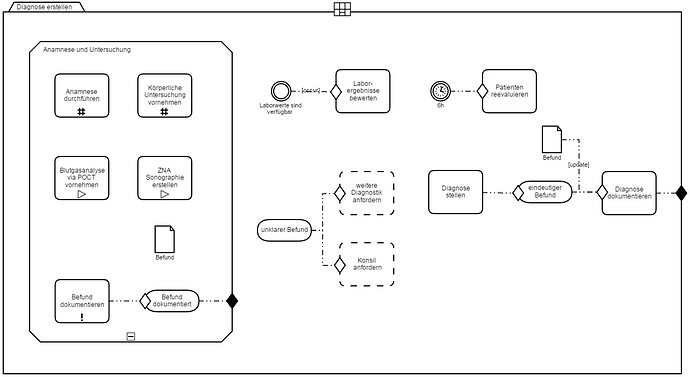 This is my first "real" CMMN model and somehow I get stuck (there is not much information on how to do "real" as in "not underwriting or doing something in a cushy chair at the desk stuff" CMMN model to be found, I guess).
I presume that I am not getting my mind to think in the right dimensions - BPMN is relatively easy. What I am having problems with is modelling cause and effect:
Unclear diagnosis? Get more diagnostics. Get advice from a colleague. Still not enough? Evaluate. Set a division the case belongs to. Get rid of the patient by transferring him/her there. Many more patients pressung through the door? Transfer the patient as soon as possible.
I know this sounds like a mess, but right now I don't know where my next step is.
Does anybody have any advice for me?