Hy,
We have the following situation:
We modeled a process with a parallel gateway. After a while we realized that this parallel process in real is independent. So we model two new processes and now we would like to create a migration from the former parallel process. For testing purpose I have modeled the following. (In real the process is more complex.)
Old process definition: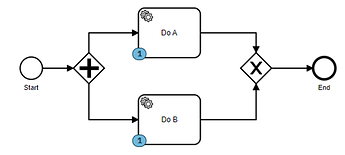 New in sperate process definitions:
Process A:

Process B:

Is there a chance to create a migration from old process instances to the new one?
My Problem is, that migration plan only allows one "targetProcessDefinitionId". Even if I would migrate only to on process (e.g. Process A), execution of migration fails because activity B has no target:
B:64938b59-0e65-11ed-96d2-46ad0f5e57a2':\n\t\tThere is no migration instruction for this instance's activity\n