Dear all,
I try to deploy a small test workflow with modeler 5 to my local Camunda docker installation.
I choose "Camunda Platform 8 Self-Managed" and enter the cluster (1 broker only).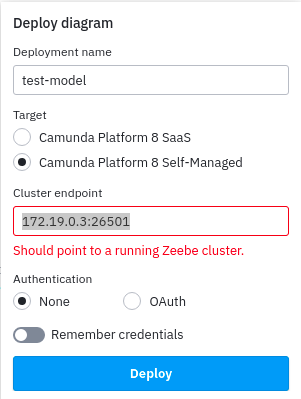 I don't see what is wrong as this looks to be correct according to zbctl output:
zbctl status --insecure
Cluster size: 1
Partitions count: 1
Replication factor: 1
Gateway version: 8.0.0
Brokers:
Broker 0 - 172.19.0.3:26501
Version: 8.0.0
Partition 1 : Leader, Healthy
In the console window of the modeler I see some suspicious output and started looking into proxy settings for modeler 5 but couldn't find anything useful. I must somehow autodetect my proxy but I would like modeler not to use the proxy at all.
Here's what I see in the console:
E Failed to connect to 172.19.0.3:26501 through proxy xxx.xx.xxx.xx:8012 with status 503
(I stripped the proxy address)
Could you please help?
Frank