I have been reading a lot about the multi tenancy capabilities, but nothing seems to address our specific use case/set up.
We have set up heterogeneous clusters that share the same database so we want to isolate the instances by tenant identifiers.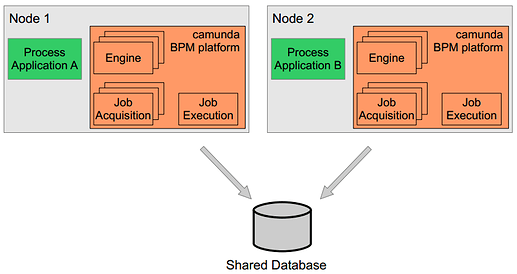 But we also have definitions that we want to share between nodes (no tenant identifier). This seems to be well supported and we can make each process engine deployment aware. And when each engine is started, we can registrar the deployments for each tenant (node).
I have also seen that we can implement a TenantIdProvider that will allow us to set the tenant id for the process instance when it is created. I would think this would isolate this instance to the tenant specified.
What I want to know, is if there is a way to isolate the job acquisition to the tenant of that node even for these shared definitions? It seems that the registration for the job executor is by deployment, not by tenant. So these shared definitions have the ability to jump to another node if the job acquisition picks up the work.