Hi there,
I came across some special behaviour today concerning performance which I cannot explain to myself. Hopefully someone here can help me out.
My setup is a process which instantiates other process instances. I'll call the first one the "starter process" (process A). The process instances started by the starter process are all of the same definition (process B).
Process A determines daily at a specified time for which business objects there is a process instance of type B to be started. The process engine is embedded in my existing application using Spring.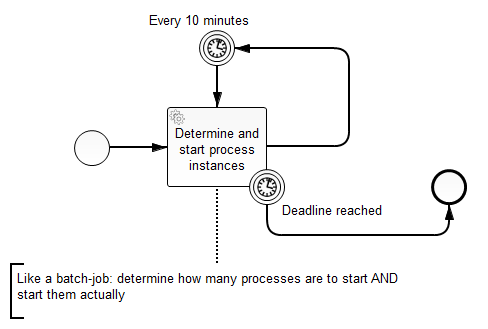 The process definition started by the starter process has the "asynchronous before" set to true in the start event so the transaction of the service task in process A is not affected by the execution of all the other process instances (started from the service task).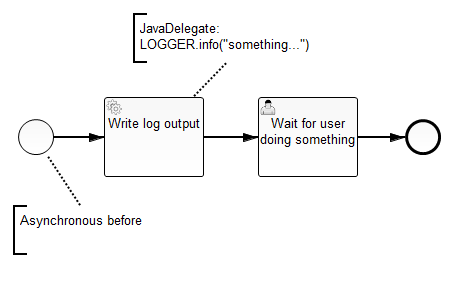 Now the strange thing I encountered (which is hopefully easily explainable):
When process A is started, its only service task is entered at first. As said - it determines a bunch of business objects. For each of them a process instance of type B is started using the Camunda runtimeService.startProcessInstanceByKey in Java. I'm doing tests with starting 500 process instances. The service task of the started process B does nothing more than writing a single line to the log file.
According to the log file I can see 100 lines per second.
Process A moves on to the intermediate timer event and waits some time. When the due date in process A is reached the token moves on again to the service task and a bunch of more (again 500) business objects are determined where a process instance is started for each.
Now the log file has an output of only 23 lines per second.
So the first run was four times faster than the second run and all of it's successors.
Please help me - what is going on there under the hood, that makes such a difference. Or maybe you could help me to tweak some parameters to get rid of the problem.
In productive use there will be thousands of process instances being started in this manner and they will do lots more than just writing to the log file so the runtime problem is getting even more significant.
The started proccess instances of type B are from a long running type - e.g. 2 months at least.
Every help is really appreciated!
Cheers Chris