Hello all,
I have created a test process to examine how signals work, but I cannot understand the following behavior that I receive when I create a new process instance.
I have something like the following:
(tokens are marked with green, while matching signals have the same letter)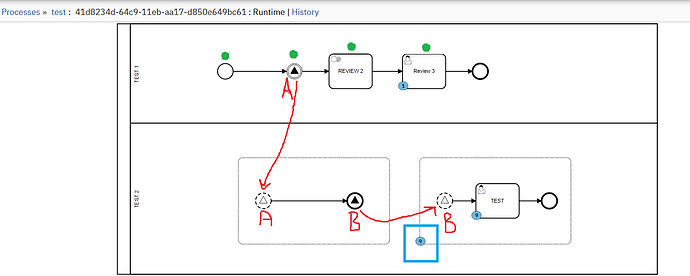 I can not understand why I see 9 tokens in the right event-subprocess. I would expect to see only one.
The logic is that a token starts in TEST1 pool and once arrives at the throwing signal event "A", the signal is catched in the event-subprocess as a non-interrupting signal start event. Inside the subprocess, a new signal is thrown "B", which is catched in another event-subprocess.
However, I would expect to see only one token and not 9.
Any ideas why this happen? Is it something that I am missing because of BPMN 2.0 specification or is it something because of Camunda ?
Thank you in advance.