Hello, everybody.
I am struggling to find a solution to my problem. I have a service task, that might fail, however, I would like to retry a few times in intervals to see if it gets to work. Nevertheless, when my retry times is achieved, I would like to proceed to a different place and due it manually.
I have tried the asynchronous continuation, which I can specify the retry time cycle. The retry action works, however I don't have a way to specify what it should do when it is finished. I would like to throw a specif error, in which I could get by using an Error Boundary Event and send it to other direction. Following is part of the bpmn, in the way that I would like to have.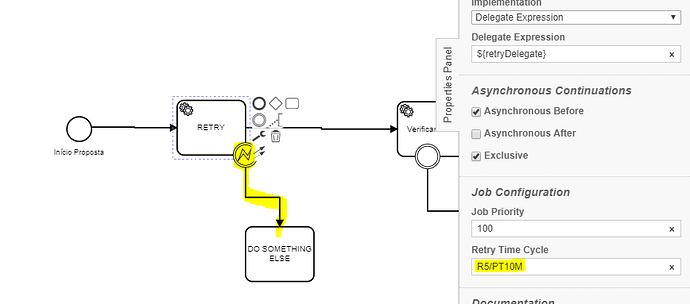 I know that I could do all this using many service tasks, and timers, however, I would like to have a better solution to this.
If anyone could share with me possible solutions to get the moment of the last retry, I would be eternally grateful.!