Hi,
I am trying to get started with Camunda 8 for a Showcase/POC. In that showcase, we need to run several scripts in a row so I was thinking "hey, let's use a script task for each step".
I did something like this in Camunda 7 with inline scripts already, however, I am stuck with Camunda 8.
Currently, I am running in the SaaS Camunda 8 version.
I tried several combinations for the headers by settingthe key "language" to groovy or javascript and just trying simple things like
"1+1
return 1+1
…
println "Hello world"
in the script header"
e.g.
<zeebe:header key="script" value="a + b"/>
<zeebe:header key="language" value=""/>
However, the process always seems to get stuck in the script and no values are returned. I feel like I would need a simple example to get going. The one in the docu did not help me… Anyone?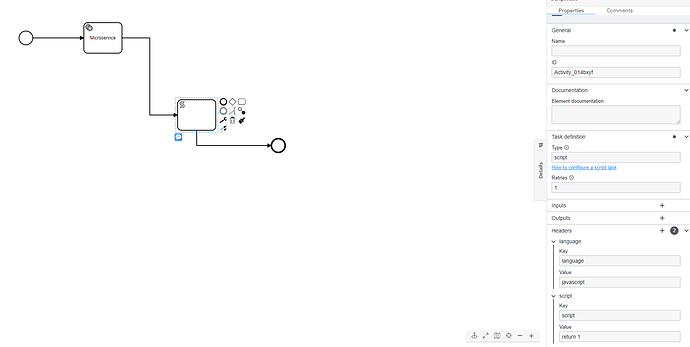 Thanks, Fabian