Hi
I am trying to implement two different processes like in the attached picture below.
The first process has as a start event the OnlineOrderReceived message and the second one PaperOrderReceived message. Both of the orders will need to be checked in the UI which afterwards will send an event OrderChecked.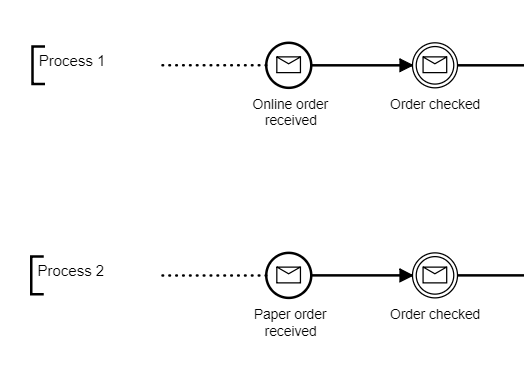 These are two separate processes deployed on the same Camunda instance. Apache Kafka is used to send the messages.
How should I handle the correlation in order for both processes to receive and handle the OrderChecked event correctly?
This is the current solution which fails (it is correlating correctly the instances of process 1 but fails when trying to correlate instances of process 2.
camunda.getRuntimeService().createMessageCorrelation("OrderChecked")
                .processInstanceBusinessKey(order.getId())
                .setVariable("order", order)
                .correlateWithResult();

The error is: org.camunda.bpm.engine.MismatchingMessageCorrelationException: Cannot correlate message 'OrderChecked': No process definition or execution matches the parameters
Thank you for helping