Hey all
Wanted to share a work in progress:
This is a implementation of Spock Framework as discussed on:
But we are now taking it further to add BPMN Coverage testing similar to:
But the coverage library i have found to generally be complicated to extend and was very confusing on how it worked. The goal here was to open coverage testing to "everyone" / even the less technical bpmn devs.
So we end up with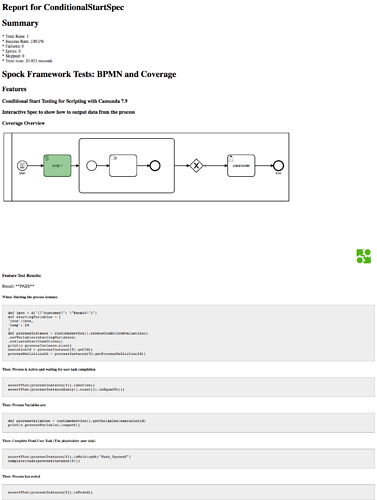 some differences between the current BPMN coverage lib:
It works with the default engine; no custom bean configs required
it uses all of the built in camunda engine services to generate the required data; there is no custom data models being stored.
it uses all of the in-house spock framework features and the spock-reports extension, providing really easy extendability.
You can follow some of the dev discussions here:
Or feel free to ask questions or get involved.