Hello to all camunda experts!
I would like to share my case with some issues with Asynchronous Continuations
In my scenario, I want to share a model between two engine.
I have first engine-instance called it backend-engine and I have the second engine-instance called domain-engine running on the same DB.
I have model with some user-, service-tasks and intrermediate events.
Each element has its own delegates.
I deploy the model via domain-engine and the user and service-task delegetes are also deployed on domain-engine.
The backend engine has delegetes only for intrermediate events.
I would like now to run all the delegetes on both engines.
For this I have enabled the asynchronous continuations in the model, but it seems to work only with usertasks.
The model in first case only with usertasks is work as expected:
First run a delegate on domain-engine, then the listener on backend and then delegate again on domain-engine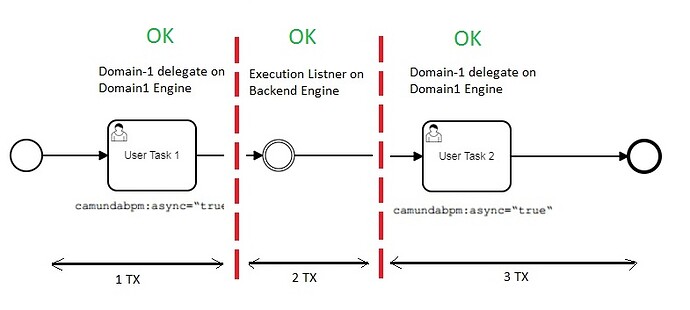 As next step I added one service task and it seems that the service task does not close the second transaction, so I get ClassNotFoundException on domain engine.
How can I define, that the second transaction should be fired throws job executor on backend engine?
Cheers,
Alex