Hello!
I've made a simple BPMN diagram with a Called Activity, which has either a normal or an escalation event results. In parent process, we want to go back, correct, and redo the Call Activity subprocess until it is OK. I noticed that if we go down the escalation path, the process goes to Assign New Reviewer and Signup Reviewing tasks. I expected it to only stop at Assign New Reviewer, then go to Signup Reviewing Process Called Activity. Is this behaviour as designed and I am missing some knowledge, or something else? The Token at Signup Reviewing Process seems excessive…
Attached a minimal example with the issue I've encountered and a screenshot of the cockpit.
Also, is there possibly a better way to model this scenario?
Cheers~!
---
Camunda version 7.8 with Spring Boot Starter 2.1.2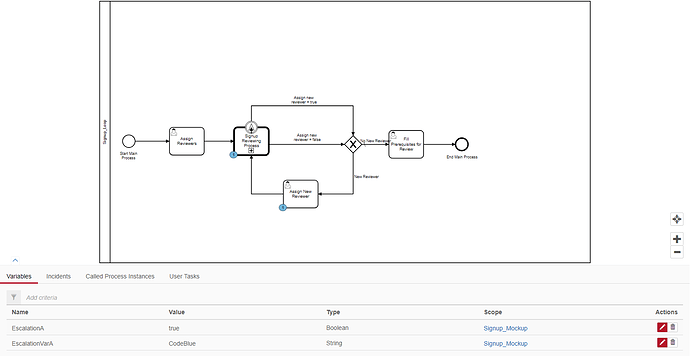 Call_Activity_Sub.bpmn (5.8 KB)
Signup_Reviewing_Process.bpmn (9.5 KB)