Hi,
im looking for solution for a case where i need to send email reminder to candidate group or task assignee in specific time interval while respecting due date at the same time.
Background: in my use case we have created mechanism for dynamic task assignment which is plugged into camunda reactor and its pretty simple:
when task is created without assignee → determine candidate groups for task and notify them via email
when task is assigned → notify assignee via email
now i would like to add a reminder feature:
if task is not assigned, send email reminder to candidate groups in task specific intervals, until task gets assigned.
if task is assigned, send email reminder to assignee in task specific intervals, until either task reaches due date or task gets completed
now i was thinking of some kind of generic processes to handle these two cases and i came up with this: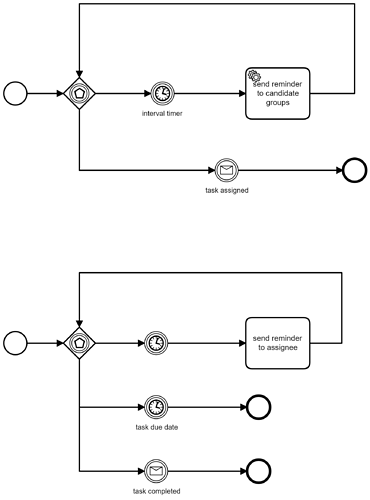 Where messaging particular instance is solved with message correlation keys.
However i have some concerns about process/task cancellation. Since reminder process would be loosely coupled to task, how can i handle process/task cancellation? Will canceling task/process emit TaskListener.EVENTNAME_DELETE i can listen on, or is cancellation something else than delete event?
Moreover this use case seems like some kind of standard behavior, is there some solution in camunda engine for task notifications/reminders i could use to simplify this?