Hi I have a case as below. I want to the following behavior.
Stage1 is set to Repetition Rule with a variable that controls it. Initially the variable is false. When the case starts I want Stage 1 to execute. when Stage 1 is completed I want the case to move to Stage 2
Stage 2 checks some conditions and sets the variable that controls Stage1 repetition to true. When Stage2 completes, I want Stage 1 to activated again.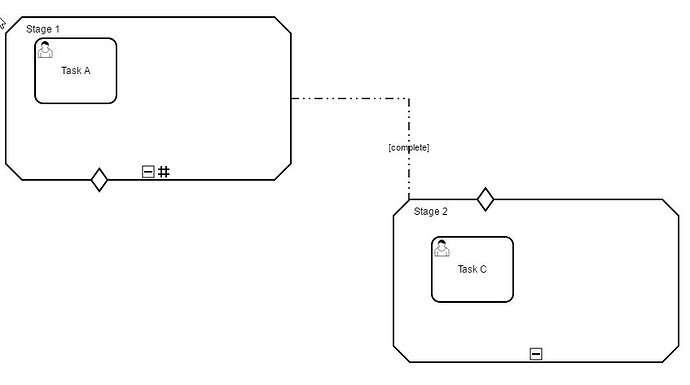 The problem I am running into is the condition that decides whether Stage1 is to be repeated is not determined when Stage 1 completes or on any other standard event. It happens when Stage 2 sets some variable. I thought this could be achieved by setting a Sentry on Stage 1, but that doesn't really do anything. How can I get Stage1's repetition to be revaluated on Stage2 completion? I am pretty sure I cannot set a sentry on the Stage2 completed event back to Stage 1 as that creates a circular connection and prevents Stage 1 from starting in the first place when the case is created. Which is why I tried using a Sentry, but the Sentry is not triggered a second time when Stage 2 is completed.
I simply cannot figure out how to model what I want.