Hello!
I'm trying to model the following behaviour:
"If a user assigns a task to itself and doesn't complete it after a certain time, the task is automatically unassigned (or re-created)".
I thougth that I could model it with a variable "task_assignement_status" with possible values "assigned", "unassigned", "(assignation) expired", and conditional events. Something like this: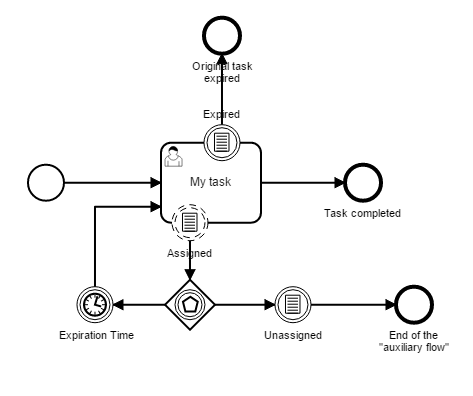 The variable is initialized inside the start execution listener with value "unassigned", then changed to "assigned" (or again to "unassigned") inside the assingnment task listener. And it is also set to "expired" inside the timer end listener.
The problem is that the variable changes that are done inside the assignement listener aren't triggering any conditional event. I don't know if this is expected behaviour, me doing something wrong, or a bug. Nevertheless, if I do the variable change manually using Cockpit I see the conditional events being triggered.
Also, I would like to ask if there is a better or easier solution to model this. For the moment as a workaround I'm just using a boundary interrupting timer that goes back to the task, and that is initialized with a very long time period (ideally I wouldn't need a timer if the task is not assigned), then changed dinamically to a shorter time when the task is assigned (inside the asignement listener) using Java delegation code (and changed back to the long time period if it is unassigned again).
Thanks in advance.