Hi there,
Pretty new to Camunda products, looking for some direction.
We are building a chatbot with Zeebe using REST req/response from external services.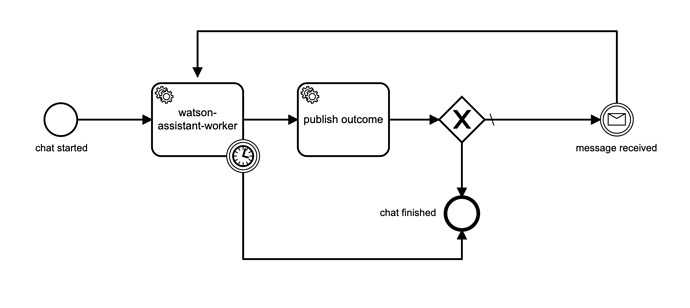 In order to get responses from our external services (just one for the beginning: watson-assistant-worker) we use the event emitter approach, pub/sub design → service task publish-outcome in my workflow (as explained by Josh Wulf in this article https://zeebe.io/blog/2019/08/zeebe-rest-affinity/)
As you can see in the bpmn we created a message intermediate catch event called "Message received" to handle user inputs.
I have 2 questions:
Does my workflow make sense to you ?
And I'd like to know if the service task (pub/sub) still the best practice to send events or if zeebe implemented a Message Intermediate Throwing Event as available in camunda (Message Events | docs.camunda.org) ?
Thanks for your help
Roland