Hi, we have a need to create workflow instances representing nodes in a tree like structure, so parent node waits for child workflows to be completed before doing some work(for example aggregating numbers up the hierarchy).
I tested with a simple workflow like below(with no external tasks etc to see pure zeebe performance) with a reasonable zeebe cluster(4 node, 12 partitions) and performance does not look good. i could be doing something wrong, hence checking.
15 levels, each node 2 children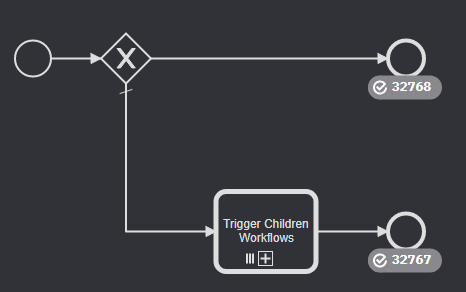 above workflow which does not have any external jobs/tasks took nearly 1h to complete(and the cluster does not have any other activity/workflows going on), here is a screenshot from grafana dashboard.


we also observed that all the workflow instances are handled by the same partition, is it because of parent-child relation between these workflows? if so, it is concerning, is there a way to avoid this?