Working on a few patterns for checking the state/status of a external system on a interval.
Consider the following: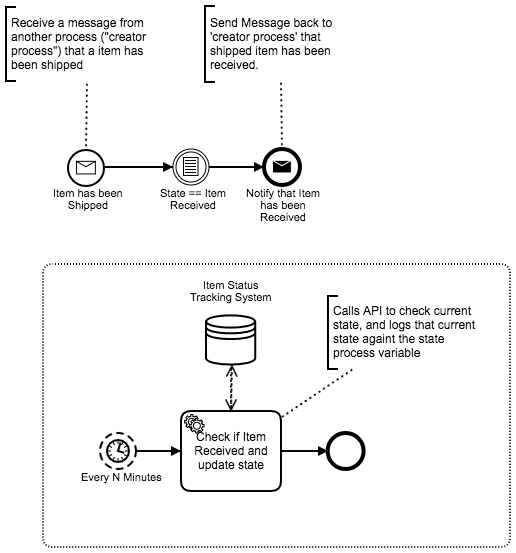 I was thinking that the new Conditional Events in Camunda make this a simple process to model. This is only modelled, not tested at the moment.
A "parent" process sends a message to this process saying that a item has been shipped. The process then waits for the "State" variable to have the value Item Received.
Then there is a Event Sub-process that has a non-interrupting timer that executes every N minutes, and then checks the state of the item's delivery by calling a external API.
When the item is delivered, the State variable is set to "Item Received" from the event sub-process, which moves the process to the End Event Message, which sends a message back to the "creator process".
Anyone have thoughts on this pattern?
A common usage i was working through is when you have shipped a item and want to notify the receiver about the delivery, but the system that tracks the delivery is 'legacy' and can only be polled.
Another factor I was considering is a overall timeout for the process, where have a total of N number of attempts of the Event Sub-process, the overall process would terminate so you do not have endless checks.
Thoughts?